Wyatt Man!
EIGHT months! You are entering one of my favorite baby stages of all time.  The age where you begin to really understand us and do things that you know are funny.  You learned how to wave a few days ago, and my most favorite - you start dancing if there is upbeat music playing. I will be holding you and you bounce your arms up and down! Yu love trying to get a reaction out of as as seen below (notice that a bottle of bubble bath is missing in photo #2 ;))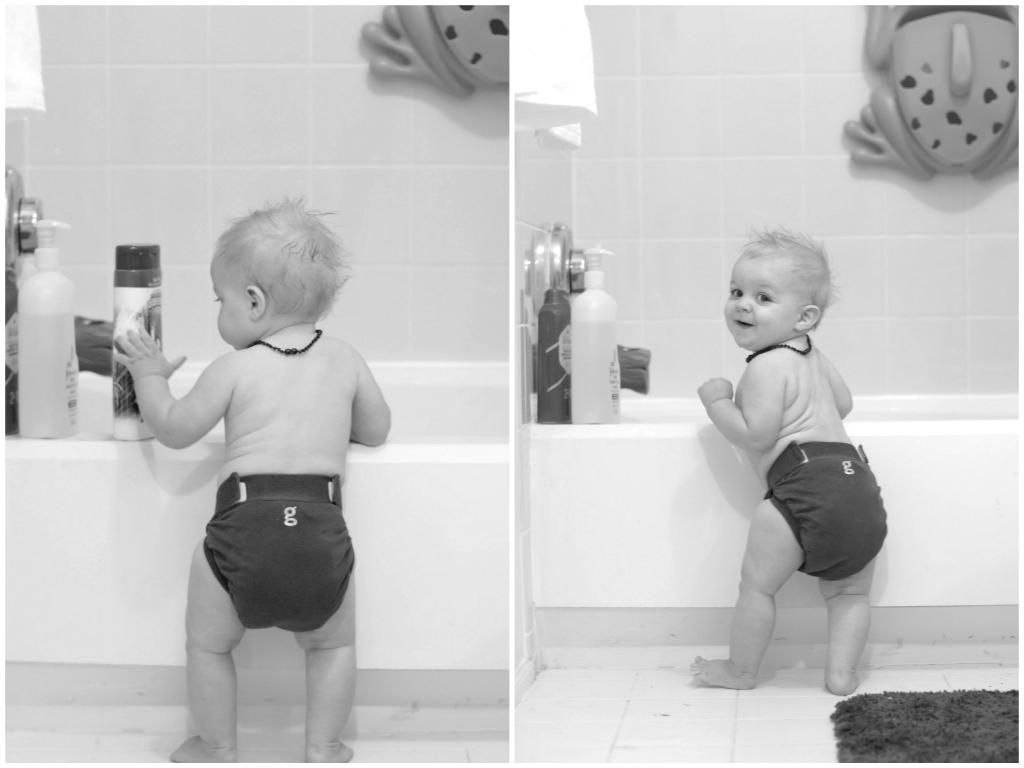 You have two teeth now, and you still haven't met a food that you don't love.  We have completely done away with purees (too much work!), and you are self-feeding like a champ! Your favorite foods right now are definitely any kind of pasta, corn, and peas.  You don't even mind foods that are a little spicy!
For some reason, you have decided that you don't like sleeping all night anymore, which has been a bit difficult on me, especially the days that I work in the office.  You have also gotten a bit of separation anxiety, especially on those days I am in the office.  You get very excited to see me when I pick you up. You crawl to me as fast as you can, giggling and shrieking. Most times you also grab my face and give me a few very slobbery kisses. You pretty much will not allow anyone to hold you for the rest of the evening…you also won't let me put you down. I don't mind too much, since I was missing you all day too, though. You have a special language with your brother, and nobody makes you smile and laugh like he does, which is so special to watch. 
You still smile a TON, but you have added a million HILARIOUS scrunchy faces as well.  Oh, and you have a ton of blonde hair.  We made it to eleven months before cutting Jackson's hair, but I am not sure that we will make it that long with you. Who knows, we might just let it grow long and shaggy instead of cutting it though. You still stand and pull up on everything, and I am afraid that you might start walking sooner than later, which is going to be nuts because I am already chasing you everywhere!
You definitely bring more color to our life, and we are so happy that you are ours! Happy 8 months cutie man! 
xoxo,
Mom